Downingtown, PA Stamping & Stamped Overlays Experts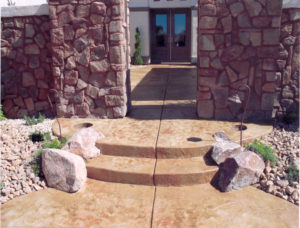 Even if you do not live or work in one of Downingtown, PA's oldest buildings, you can still upgrade your property to match the historic surroundings. Stamped concrete gives you the authentic look of rough-hewn fieldstone, limestone blocks, interlocking pavers or classic brick without an outrageous investment of money or time. Whether you are a residential or commercial customer, getting started is as easy as filling out a free quote request form
Sundek of PA has been designing and installing decorative concrete patterns in the Philadelphia region for more than 30 years. You can request concrete stamping on virtually any surface, from patios and walkways to driveways and pool decking.
The process begins with our reliable Chester County work crews power-washing and prepping your surfaces. Because stamped concrete overlays go on top of your slabs, you do not have to worry about tearing up and hauling away your old concrete. The installers spread a thin layer of our exclusive SunStamp polymer, which adheres to the surface, minimizes your stamped concrete maintenance and lasts nearly as long as the concrete itself. After waiting for the appropriate hardness, the installers pound overlay patterns into the material. Then, they apply your choice of stain colors, which gives the stonework or woodwork its realistic appearance. Finally, they seal the project with a clear topcoat that makes the finest details stand out.
Avoid the hassle of a "how do you do stamped concrete" DIY solution and the wasted time of an amateur contractor. Call Sundek of PA at (717) 245-2829 and find out why the BBB continues to rate our company with its highest A+ grade.