Do you want to give your kids a one-of-a-kind play area as a big surprise? If so, you definitely want to consider using stamped concrete as flooring. This same decorative concrete solution works on vertical surfaces as well. For that reason, it offers endless possibilities. The key to success is letting your creativity flow and having an expert who uses a product like SunStamp to perform the work.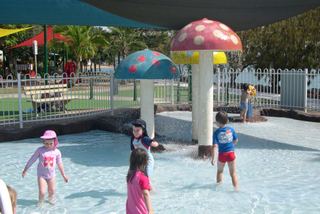 A Little Bit Country
With so many designs and color options, the sky's the limit. If your kids love to pretend that they're from the Old West, you can have stamped concrete applied to mimic hardwood. Just imagine building a miniature town, complete with a house, bank, and general store. The hardwood flooring design would make everything more realistic.
A Little Bit Rock and Roll
Of course, some kids are on the other end of the spectrum. For those who love performing, or at least predating, you could create a stage. In this case, you might consider stamped concrete that looks like slate or flagstone. And, in keeping with the theme, you'd want to choose a vibrant color that inspires your kids' talent.
Nature Sanctuary
How about a nature sanctuary in your own backyard? This type of project is easier to achieve than expected. All you need is a designated area, some planted trees and bushes, a pond, and a small bridge. Instead of grass, you could have stamped concrete applied that resembles river rock. When properly sealed, even water from the pond wouldn't cause any damage.
So Many Possibilities
The great thing about stamped concrete is its versatility. An installer can create a surface that looks like any of those mentioned, as well as, cobblestone, marble, and brick. Instead of giving your kids something ordinary, just imagine their excitement as they walk outdoors into a magical play area. Once they grow up, you can easily transform the space to make it more adult-friendly without removing the decorative concrete.