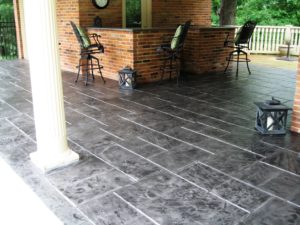 The patio has become more than just a paved outdoor area. Nowadays, it is an instrument in bringing family and friends together. It is quite enjoyable to make use of the concrete patio for family events, relaxation, bonding with friends, or as a child activity center. However, all these can wear out the patio sooner or later. When the time comes to address concrete issues, you have the option to resurface or replace. Which is the more economical choice?
Patio Resurfacing
This type of concrete repair involves the use of a coating or overlay, giving the old patio a new lease on life. An overlay system, like a stamped concrete patio, often costs $3 to $10 per square foot. This range is greatly influenced by several factors, such as:
Material – There are different types of resurfacing coatings or overlays. The type you choose and how many layers of it will be used will affect the overall costs.
Patio Size – Since rates are calculated by square foot, bigger patios cost more. There are rare instances when smaller ones incur more costs, like when access to the small patio is difficult.
Additional Services – Customization costs extra, of course. This may include hand-staining, intricate patterns, and the like.

Other repairs

– If certain issues need to be addressed before an overlay can be applied, such as sealing cracks and holes, then it could add to the total costs.
Patio Replacement
Replacing the entire concrete patio will cost more, of course. Demolition of the old one alone may already cost somewhere between $800 to $1000. Installing a new one after the old one has been removed also depends on the material used:
Concrete – Pouring new concrete may cost around $11.50 per square foot. A concrete contractor recommends sealing the concrete because it is a very porous material.
Stone – Installing stone units, like flagstone, can cost about $20 per square foot. This would require a concrete slab and some mortar to support the stone pieces.

Gravel

– This only costs around $5.66 per square foot but it can be difficult to maintain because the rocks move around. It is also vulnerable to weed growth.

Pavers

– Concrete pavers cost around $15 per square foot. The soil underneath needs to be compacted well enough for it not to shift. The pavers also need to be sealed and held down with polymeric sand.