There are fewer things more relaxing in the summer than sitting outside on a warm day. Add a cool breeze, and everything's perfect. Whether you have family over for barbecues, friends for dinner and drinks, or clients to celebrate closing a big deal, you want your backyard to make an impression. One way to accomplish that is by adding personality to your pool deck coating.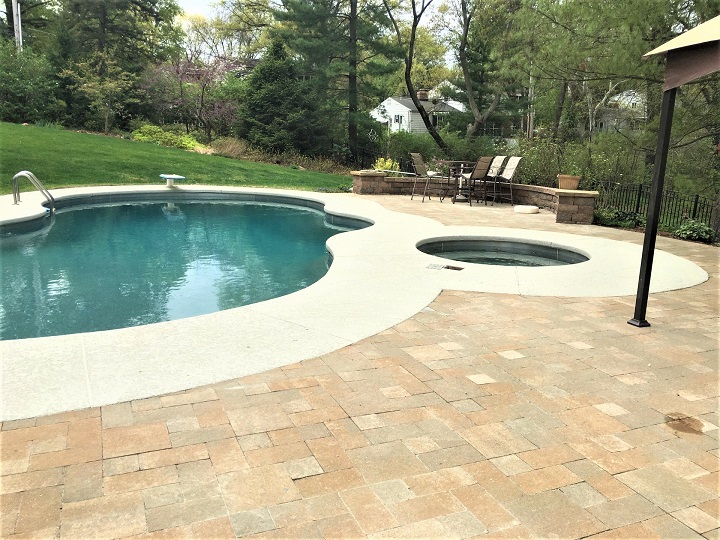 Especially if you spend a significant amount of time outdoors at your Chester home, you want a pool with clear water and a safe deck. By using the right pool deck coating, people can walk around without slipping while admiring the incredible design.
The great thing about changing your pool deck coating is that you have unlimited design possibilities. One that's increasingly popular is to use color. For this, a professional installer can create a unique design with multiple colors that make the deck area pop. You can use your graphics or work with the expert to help come up with something extraordinary.
Another popular way to add personality to the backyard of your Chester home is to mix different overlays. For instance, you could have a deck that looks like genuine wood. However, off to the side, you could design a seating area with an overlay that resembles river rock.
An epoxy pool deck coating is another incredible option. With this, you have a choice of different aggregates, including colored glass, pebbles, quartz beads, and more. In fact, you could select an aggregate that glows in the dark to really make a statement when using the backyard space at night.
Regardless of the direction you take, it's essential for your project to start with a premium product. In the case of epoxy, SunEpoxy 100 is ideal. To make the decking even more special, you might consider working as a family to create a design. That way, everyone feels as though they participated in the transformation of their Chester home's backyard.