A+ BBB Rated Decorative Contractor in Philly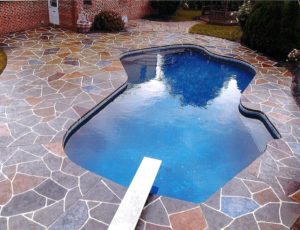 When you want a quality solution to restoring or updating your old, ugly concrete surface, Sundek of PA is the contractor to provide exceptional effects that will transform your area, allowing you to enjoy beautiful and long-lasting results. Serving our customers for more than a decade, we are dedicated to their needs and interests, placing excellent service at the top of our list of priorities. We have had the distinction of completing Sundek installations at three of the top country clubs in the region, including two that host PGA tournaments. Additionally, we have been featured in Distinctive Living Magazine and the Carlisle Sentinal for our work.
Our team of professionals in the office and on the field offer reliable expertise and insight. They are more than willing to work with you to find the ideal decorative concrete effects for your setting. On the average, our employees have been with us for at least 10 of our 14 years in business, which goes to show that our staff carries years of experience with Sundek materials and its application on the worksite. They know the product well enough to apply it with the touch of a skilled artisan and they are able to adjust based on environmental and physical factors during an installation.
Concrete Solutions with Value and Variety
One of our most important services is enabling you to achieve beautiful flooring effects without the need to tear out and replace old concrete. The time and costs involved in placing decorative coatings are significantly more economical than replacing a cracked or ugly slab or patio. At the same time, the variety of effects available makes it possible to achieve truly artistic results. Many of the same finish options used in a concrete pour can be achieved with our Sundek products, including:
SunStamp – Stamped Concrete Overlay
Tuscan – Old world textures and patterns
SunCanvas – Micro topping for indoor application
SunSand – Designed to combine with other finishes to create a fine texture
SunColor – Staining concrete
SunGlaze – designed to protect concrete and enhance colors
Our Sundek products and services allow for a variety of decorative flooring and slab finishes to be considered on your project. One of the most challenging issues with concrete floors can be the slick nature of the material during wet weather. Comfort during hot weather can also be frustrating, especially on a concrete pool deck. Cracks and slab damage can also create obstacles that can lead to trips and falls. Sundek materials can be used to improve on each of these issues, adding a slip-resistant quality while providing a cooler walking surface. Our maintenance-free products are ideal for adding value while enhancing the use of your concrete areas. Our Sundeck products include a two-year warranty for materials and labor, and SunOne includes five-year coverage for both labor and materials.
Exceptional Concrete Resurfacing Services with Beautiful Results
We specialize in a variety of concrete repair and refinishing services and our years of work with these effects allow us to achieve truly stunning results. Some of the most popular options we have for any patio, deck, driveway, garage, or basement are:
· Stamped Concrete Overlays- Color and stamping techniques make it easy to transform a plain floor into a work of art through the addition of patterns, textures, and designs. Achieve the look of intricate tile or flagstone without the labor-intensive installation required with such effects.
· Stained Concrete – Staining allows for variations of rich colors incorporated into your finish. It can easily be applied to an existing floor, making sure it has been prepared beforehand, to achieve the look of a more classy and sophisticated look.
Have decorative concrete plans in mind? Let us help you get started!
Our team is ready to answer questions, provide ideas, or schedule an estimate at your convenience. We stand out in our industry because of our commitment to customer satisfaction and this is reflected through repeat business over the years. With a product that has stood the test of time, we can add beauty to your floor or slab while enhancing the value of your property.
We also serve Main Line, Downingtown, West Chester, Malvern, Chester Springs, Newtown Square, Brandywine, Bryn Mawr, Norristown, Malvern, Phoenixville, Plymouth Meeting, Doylestown, Valley Forge, King Of Prussia, Langhorne, Fort Washington, Central and southern New Jersey, and surrounding areas.
Give us a call now at (717) 245-2829 or fill out our request for a quote online. We look forward to hearing from you!