Leading Concrete Resurfacing Contractor for Residential and Commercial Spaces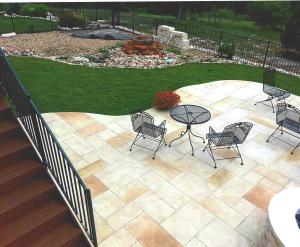 Are there cracks and little holes on your concrete? Is the damage making the surface a safety hazard? Then something must be done. While the traditional method was to replace the slab altogether, there is a more practical option. Decorative concrete resurfacing is the process of replacing the top layer of a slab with a new one. Because the existing slab is restored and only a small amount of material is used, the costs are also kept to a minimum. An overlay or coating is installed on the top of the slab and then sealed to protect it from damaging elements. It is as durable as a new pour, if not better.
Reliable Decorative Concrete Resurfacing Options
Each decorative concrete resurfacing system has its own unique set of features, aesthetics, and function. All the options are durable and affordable. Here are the top concrete resurfacing options for residential and commercial use:
Spray Knockdown Finish – A great choice for a concrete patio and pool deck is a spray texture. It effectively covers up blemishes. The coating is slip-resistant and it is capable of maintaining a low temperature despite long exposure to sunlight. Textured concrete patios and pool decks can be stained for a more customized look or to match the current color theme.
Stamped Overlay – A concrete driveway, patio, walkway, or entryway could surely benefit from a stamped overlay. Colors and patterns can be mixed and matched to acquire a certain look, be it old-world European, contemporary, or vintage. You can use it all throughout the whole space, as a wrap-around design around trees, fire pits, or fountains, or as a border or coping.
Epoxy and Polyurea Polyaspartic Coatings – Residential garages and commercial flooring are ideal spaces for epoxy flooring and polyurea polyaspartic coatings. These create super tough surfaces that require minimal cleaning and maintenance. Paint chips can be added to make the seamless floor look more decorative and appealing.
Let's make your concrete resurfacing project happen. Call (717) 245-2829 for a free consultation.
Sundek of PA is proud of creating top quality concrete surfaces, finishing it on schedule, at a price comfortable with you. We are proud to have been given an A+ rating by the Better Business Bureau. If you are planning to invest in a residential or commercial concrete project, resurfacing is a great option. Our team of experts understands the stress involved so we make sure that you are well-informed and every aspect is executed with proficiency.
Request a free consultation and quote today. Call us!