Decorative Concrete Philadelphia, PA: Concrete Surfaces at its Finest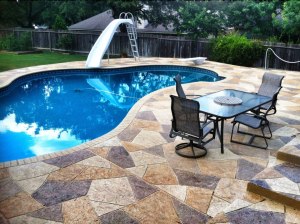 When it comes to construction, the first thing that comes to mind is concrete. Why? It is the most common and popular material in the world, that's why. It is durable and versatile. Easy to work with. And affordable. Decorative concrete solutions in Philadelphia gave new purpose to concrete. Concrete surfaces can now be more than just a base or a foundation for all other materials. It is now rising up, taking center stage, and putting people in awe. Get ready to admire concrete even more.
Decorative Floor Resurfacing
Sometimes, re-pouring a new concrete slab seem like the only option available. But it isn't. Concrete resurfacing services are available at a more affordable cost. It can transform any home into a more welcoming abode. Looking to improve business? Decorative concrete floors will surely enhance the customer experience. Aesthetic features aside, concrete resurfacing is a worthwhile investment. It improves durability and function. The addition of a brand new surface helps retain the concrete underneath, which is equal to significant savings on the part of the floor owner. So that's double the benefits at half the cost.
Appealing Concrete Refinishing
Improve the experience of walking into a room or any outdoor area with a splash of color. A coat or two of concrete stain gives any floor owner the freedom to express their personal style. Content with how the bare concrete floor looks like? A good layer of concrete sealer can be applied to improve shine and protection.
Decorative Resurfacing and Refinishing Services
Stamped concrete overlay is one of the most popular decorative solutions for both residential and commercial concrete surfaces. An existing concrete slab is cleaned, repaired, or ground first. The concrete overlay is applied on the surface and then stamped with special stamping mats. Floor owners can choose from a wide range of patterns and designs, such as herringbone, basketweave, European fan, and more. This is also an ideal alternative for expensive paving materials such as brick, flagstone, slate, travertine, and more. Stamp patterns can be customized to mimic expensive materials and stains can be added to complete the impressive replication. This overlay is perfect for dazzling patios, driveways, pool decks, and some interior floors.
Refinishing with concrete stains is an economical way to enhance surfaces significantly. There are many different methods for coloring concrete but acid and water-based staining provide the most benefits.
Acid stain is a reactive stain that penetrates deep into the concrete slab. Therefore, it does not peel, flake, or fade. The metallic salt content of an acid-based stain produces a chemical reaction when it comes in contact with the natural lime content of concrete. This is what induces the effects and multiple hues that come out despite using a single stain color. Available colors are earthy hues like reds, browns, tans, and blue-greens. Because this is acid-based, the floor needs to be rinsed and neutralized to retain its natural pH level. The rinse water requires proper disposal to make sure that nothing around it would be harmed from its acidity. For this reason, it is highly recommended to let a professional concrete contractor in Philadelphia handle the application. The resulting look is somewhat similar to a natural marble floor or an antiquated leather surface.
Water-based stain, on the other hand, is applied topically on a concrete surface. This water-based solution contains agents that help it bond with the concrete effectively. The stain does not require any rinsing or neutralizing because of its zero acid content. The colors produced with this type of stain is more vibrant and uniform all throughout. It comes in a full spectrum of colors to choose from. A water-based stained concrete application is recommended for floors that require specific designs, patterns, images, or logos.
This spray texture system is an acrylic concrete coating that is used to resurface concrete driveways, patios, and pool decks. This is ideal for use outdoors because of its slip-resistant texture that results from spraying the material onto a concrete surface and then manually trowelling it. Think of it as a smoother stucco-like surface. Another notable feature of Sundek Classic Texture is its ability to stay cool to the touch even after baking under the sun for hours. This feature makes it a perfect choice for pool decks where swimmers often walk barefoot.
Epoxy has always been a go-to material when a project calls for something highly durable. A thin layer of epoxy on a concrete floor is enough to mask off any blemishes underneath and provide a new surface that is as tough as nails. Epoxy has a tendency to turn yellow because of its sensitivity to the sun's UV rays so it is ideally for indoor use only. The application of epoxy should be handled by a professional concrete contractor to ensure proper installation. Even a little moisture on the concrete floor can affect the look and durability of epoxy once it dries.
Polyurea Polyaspartic is probably the most durable concrete resurfacing material in the concrete industry nowadays. Want proof? It was developed for use on industrial floors where foot and vehicular traffic is heavy, an impact is frequent, and conditions are tough and dangerous. One thing that makes this coating stand out from the rest is its quick-drying feature. The installation and curing processes are completed in just a day.
Improve concrete surfaces in homes and businesses today. Call (717) 245-2829!
It can be a challenge to find the right company that can provide outstanding concrete repair services. Sundek of PA understands this that's why we made it our commitment to be the first and last choice for residential and commercial floors owners. Our team of Philadelphia installers has a minimum of 10 years experience in the decorative concrete industry. Want proof? Give us a call. We'd love to provide you with more information and a free quote.