Garage Floor Resurfacing & Refinishing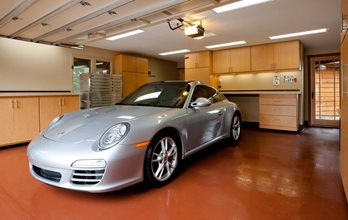 For some homeowners, a garage floor is the last thing they would think of upgrading. After all, it's mostly used as a parking area for vehicles, a storage space for various items and equipment, and a workspace for repairs and other heavy tasks. However, there are outstanding garage flooring options that can enhance the durability and function of a garage floor—while also replacing the utilitarian look with a more decorative aesthetic.
Best Garage Floor Coatings
With the right garage floor coating, you can get a surface that's durable, easy to keep clean, slip resistant, and even beautiful. Here are ideal coatings for garage floors:
Epoxy: Its non-porous surface keeps an epoxy surface from absorbing liquid, thus, preventing unwanted stains and also making it easy to keep clean. Epoxy coatings can be customized with various colors and effects, so there are many design opportunities. Because of their durability, epoxy coatings are often used on commercial properties such as auto-repair shops, car dealerships, warehouses, laboratories, and more. SUNDEK has two epoxy products:
SunEpoxy 54 is good for spaces with light manufacturing, such as garages, driveways, repair shops, warehouses, and more.
SunEpoxy100 provides all the protection of SunEpoxy 54, plus more. It's often used for surfaces that get a lot of heavy traffic from large vehicles and machinery.
Polyaspartic: This garage floor coating became popular among residential customers because it sets and dries in as little as a day. It can also be applied without considering the weather or temperature in or around the garage, unlike with epoxy coatings. It is also ideal because of its bacteria-fighting feature. If a customer's garage floor ideas involve something decorative, a polyurea polyaspartic flooring can be made to look like a terrazzo surface simply by broadcasting multi-colored paint chips on the coating right after it is applied.
SunOne, SUNDEK's polyaspartic product, was originally designed for use on industrial floors like warehouses, factories, manufacturing plants, and more, but it can be used anywhere.
Garage Floor Coatings Contractor in Your Area
Why settle with an ugly and dilapidated garage floor when there are more durable and highly aesthetic options out there? Let us help!
Contact us today for a free quote!
Call us: (888) 491-2200
Email us: [email protected]
Fill out the form on this page
Check out our Garage Floor Photo Gallery