What is Pool Deck Resurfacing?
When a contractor resurfaces a pool deck, they install a coating right on top of the existing pool deck. It allows clients to get a surface that looks brand-new without having to tear out any concrete and start from scratch.
Request a free estimate
Why Resurface a Pool Deck?
There are a variety of reasons homeowners or business owners choose to resurface their pool deck. Here are some of them:
The existing concrete surface doesn't reflect the owner's style and/or doesn't complement the exterior of the home or business.
The pool deck is damaged in some way, creating potential trip hazards or spots for people to get injured.
The deck is slippery when wet, creating a hazardous environment for people with wet feet to walk and hang out.
The surface gets too hot during summer, making it uncomfortable to walk on or sit at the swimming pool's edge.
If any of the above apply to your pool deck, resurfacing is the perfect solution. When you hire the right contractor to resurface conrete, you can update your pool deck to revive its original beauty and function—or give it a completely new look—without having to tear everything out and start from scratch.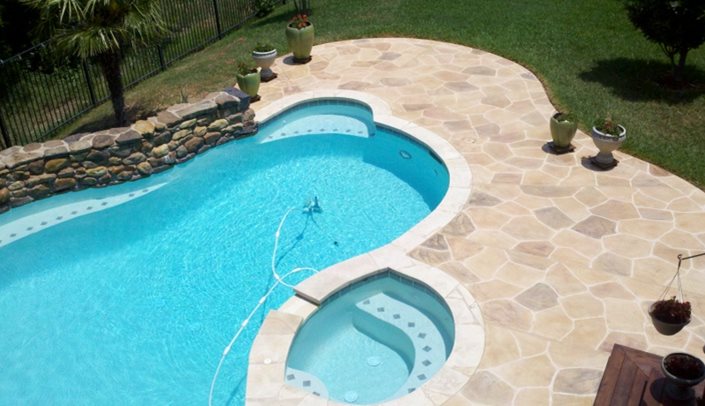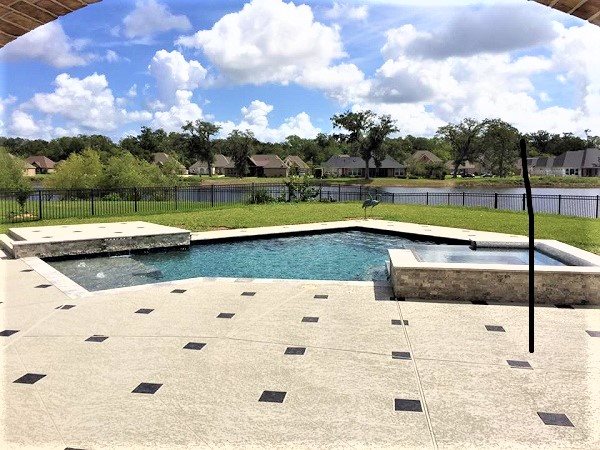 Design Options for Pool Deck Resurfacing
Our clients are happy to hear that there are many design options for resurfacing the decking around a pool, including different colors, patterns, and textures. The versatility and customization options for coatings makes it easier for homeowners and business owners to find a style that fits the look they're going for.
One of our most popular options is our Classic Texture product that creates a cool pool deck surface. If you opt for a stamped concrete pool deck, you can create the appearance of just about any material such as brick or stone, or you can talk to us about a custom pattern. With either of these options, you can stain your concrete to further customize its appearance. When you work with us at SUNDEK of PA, we guarantee our products will meet your design requirements while also meeting your functional needs.
If you have a specific design in mind, we'd love to make it a reality. Contact us to set up an appointment for a consultation and a free quote!
Are Concrete Coatings Slippery?
A good contractor knows how to apply coatings using the right techniques and products to get a surface with enough traction to prevent slip-and-fall accidents. At SUNDEK of PA, safety is one of our priorities, so we strive to make sure the pool deck coatings we install are slip-resistant and safe for bare feet. You can read more details about how SUNDEK installs non-slip pool deck surfaces here.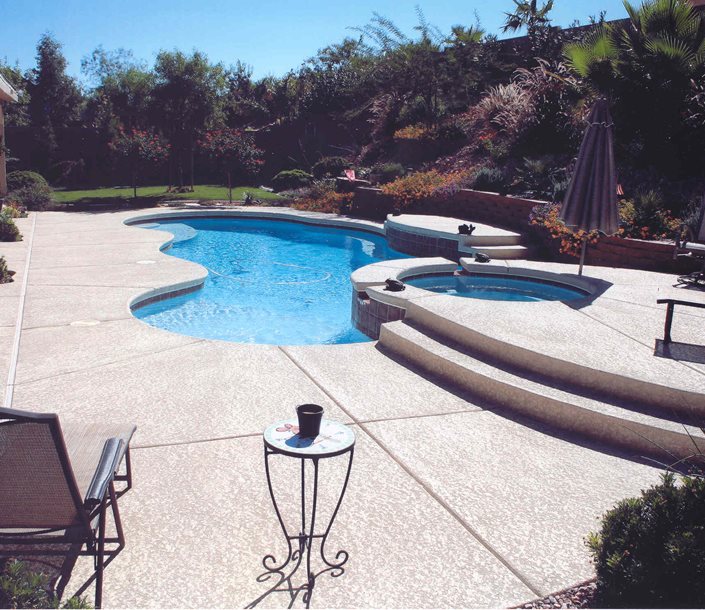 How to Keep a Pool Deck Surface Cool
If you can't walk on your pool deck on a scorching hot summer day without burning your feet, that's a big functionality problem. In fact, it's one of the top reasons people reach out to us about resurfacing. We have a variety of options available for customers who need a cool deck option. Our products and textures in combination with the right colors (light is best for a cooler deck) enable us to create surfaces that are comfortable to walk and sit on, even on the hottest days.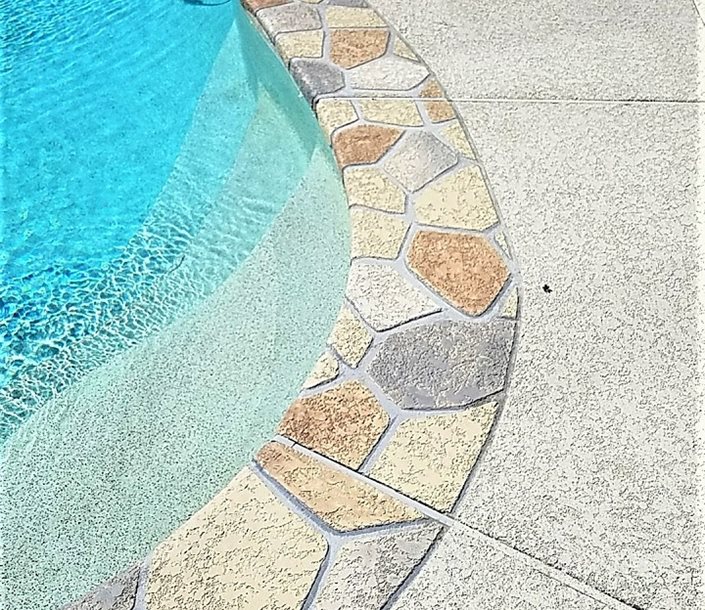 Benefits of Hiring a Professional vs. DIY Pool Decking
A lot of people resort to DIY projects nowadays, but resurfacing a pool deck is a huge undertaking that you should research carefully before taking on. Here are several reasons we recommend hiring a professional such as SUNDEK of PA to resurface your pool deck:
Before beginning, your existing deck needs an assessment. If the surface isn't viable (for example, if you have cracks that are too deep or chipping that's too significant), a coating will not hold up.
A professional contractor with a wealth of experience on resurfacing projects has a good sense of which products will be best for your site considering the location, sun exposure, how it'll be used, and other factors that impact its longevity.
Properly resurfacing a pool deck requires the right concrete coatings, tools, and equipment, much of which can be very expensive and are sometimes only available to professional contractors. For example, SUNDEK products are not available at big-box stores and can only be used by authorized installers who have gone through the necessary training.
Experienced professionals have knowledge of common pitfalls to avoid and how to overcome various challenges presented during pool deck resurfacing projects.
Hiring a professional contractor instead of resurfacing your pool deck yourself can actually save you money and valuable time.
Reliable Pool Deck Resurfacing Contractor in the Philadelphia Metro Region
At Sundek of PA, we've been installing high-quality pool deck coatings for clients in Philadelphia, Doylestown, West Chester, Harrisburg, Lancaster, York, and the surrounding areas for more than two decades.
Contact us today for a free quote!
Call us: (888) 491-2200
Email us: [email protected]
Free Analysis & Estimate