What is Patio Resurfacing?
When you hire a contractor to resurface a concrete patio, they prepare the existing surface and then install a coating right on top of it. It allows clients to get a patio that looks brand-new without tearing out their existing concrete and starting from scratch.
Free Analysis & Estimate
Resurfacing a Patio vs. Replacing a Patio
If you're trying to decide between resurfacing your patio and replacing it, it's helpful to discuss your options with a contractor as there are many factors that come into play. For one, you need to compare the cost of demolition and a new pour to the cost of resurfacing. The cost of resurfacing depends on several variables:
Condition of your existing surface and what type of surface preparation is required
Product choice
Design (for example, a single color will cost less than multiple colors in an intricate pattern)
Design Options for Concrete Patio Coatings
Because coatings can be customized with a variety of colors, textures, and patterns, the design options are endless. Whether you want a simple monotone surface or a detailed work of art, we're here to help.
Using our staining systems, we can customize your surface to give it a look that complements the exterior of your home or business establishment. With SUNDEK's stamped concrete overlay systems, we can create the look of just about any material including brick, natural stone, wood, and more.
We always suggest that our clients get ideas from online sources, magazines, books, and visiting other homes and/or businesses. Once you figure out what style you want, we can consult with you to figure out how we can make it happen.
Contact Us About Your Patio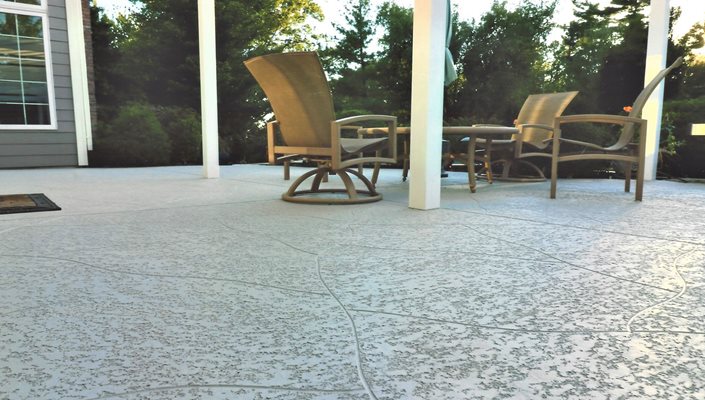 Maintaining a Decorative Concrete Coating
Though it doesn't take much to care for a decorative concrete coating, it's important to take the time to maintain it so it can last for years to come. Here are two main things to keep in mind:
Keep it clean. There's not a hard and fast rule for how often to clean your concrete, but you do need to make sure it stays clear of debris to avoid staining or grime buildup. For patios, you also need to clean up food or drink spills and not leave them sitting for long periods of time.
Apply a high-quality sealer. Sealing your concrete surface is a must. By sealing your patio, you can protect it from stains, general foot traffic, and damage from UV rays or other elements. Learn more about sealers here.
Reliable Patio Resurfacing Contractor in the Philadelphia Metro Region
At Sundek of PA, we've been installing high-quality patios for clients in Philadelphia, Doylestown, West Chester, Harrisburg, Lancaster, York, and the surrounding areas for more than two decades. We'd love to hear about your project and figure out how to make your vision come to life.
Call us: (888) 491-2200
Email us: [email protected]
Free Analysis & Estimate