Stunning Concrete Patio Philadelphia, PA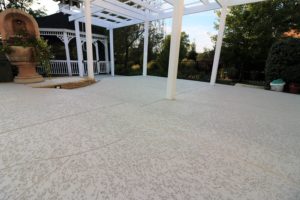 As an answer to old and damaged concrete patio dilemmas, we at Sundek of PA are offering decorative resurfacing and refinishing solutions that home and commercial space owners can rely on.
The outdoors provide enjoyment and relaxation especially with the great warm weather in Philadelphia, Pennsylvania. Traditional wooden patios are moving out of the scene and are being replaced by concrete. This is because more and more residential and commercial property owners are looking for a more durable, versatile, and economical material. Resurfacing or refinishing a concrete surface is not only a practical solution, it is also a customizable option that can help improve its look and functionality.
Concrete Resurfacing Ideas
Whether a patio is used for entertaining guests or for private use, it has to look good and function appropriately for its purpose. There are different resurfacing and refinishing options outdoor surface, each one providing beauty and function in their own unique way.
Stamped Concrete – For those who want something highly decorative, a stamped concrete patio would be perfect. Concrete stamp overlays come in a variety of patterns and designs. It can be made to mimic flagstone, slate, brick, pavers, and many other types of outdoor paving materials. This is slip-resistant and a lot easier to maintain than the material it is being substituted for.
Stained Concrete – Adding color to a patio surface can instantly improve its aesthetics tenfold. Acid and water-based stains can also be used as an additional coating on a stamped concrete surface. Acid stains are reactive stains that provide semi-translucent, mottled effects while non-reactive water-based stains are opaque and consistent.
Sundek Classic Texture – This is an acrylic coating that is sprayed onto an existing patio slab and then knocked down with a trowel, creating a unique texture that is stunning and slip-resistant. This can be further enhanced with a good stain and the addition of custom scorelines.
Need quality concrete repair, resurfacing, or refinishing solutions? Call (717) 245-2829 today.
Finding a reliable concrete contractor in the Philadelphia, PA area can be quite challenging. It has to be someone with the right knowledge and experience. Sundek of PA has been in the concrete industry for over a decade, acquiring an A+ BBB rating for excellent service. Concrete patio solutions are meant to satisfy customer demands. We make sure that the solutions we provide surpass customer expectations when it comes to aesthetics, function, and durability.
With our help, you get to enjoy the outdoors even more with utmost style and friendlier costs. Call us or email us for a free consultation and quote!
Free Analysis & Estimate