Staining for Indoor Concrete Floors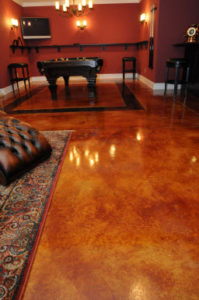 Indoor concrete flooring is becoming more and more popular within homes and businesses alike. Some people choose to cover the concrete with a finish, such as carpet or tile, but there are a lot of great reasons to leave the concrete floor uncovered. You can give your home a unique look that will make it stand out from the norm, and you'll also see a lot of advantages from doing so. Give this a read if you're considering using concrete for your new flooring. I'm going to cover some of the reasons why concrete is a good option for many home owners.
More often than not you're going to save a lot of money by choosing to install concrete flooring rather than the other available options. Instead of paying the thousands of dollars required to purchase finishing material, you can avoid the cost of carpet and other expensive floor coverings. A lot of people don't know that concrete can be sealed and finished to make a very unique and attractive look, even in indoor settings. The cost of finishing concrete is very affordable, and it will last you a lifetime without any need for replacement or repairs.
You won't suffer any damage from moisture or spills. This makes concrete a great option for a lot of people. If you live in an area that is prone to flooding or other extreme weather conditions, it's a great idea to use concrete flooring. Once your concrete floor has been treated with a sealer, you have virtually no maintenance to perform other than the occasional sweeping and mopping. You no longer need to worry about stains permanently affecting your indoor flooring. Save yourself the hassle of having to replace your carpet every five years and go with concrete indoor flooring instead.
A lot of people aren't aware of the fact that concrete can be stained and etched to look like tile, stone, wood and many other different types of flooring. You also have the option to paint the flooring, which can add a very unique touch to your home's interior. You'll also notice that concrete flooring eliminates mold, mildew and other nasty substances that can cause sickness. These are only a few of the many great benefits you'll see from concrete flooring. If you're looking to install new flooring, I'd highly suggest that you give concrete a shot.
Free Analysis & Estimate