Top 5 Concrete Patio Trends
Here in Philadelphia and the surrounding areas we experience lots of precipitation throughout the year. So when the weather is nice, many of us tend to spend as much time outdoors as we can. Outdoor patios are a wonderful place to gather with friends and enjoy being outside in the fresh air. Having worked on many patio spaces, here are some of the trends we've noticed.
Free Analysis & Estimate
Non-traditional Surfaces
Long gone are the days of wood dominating as a choice for patio flooring. While it's beautiful, wood can be troublesome when it comes to issues such as termite damage or water damage. Concrete, which has always been known as a strong, resilient material, is gaining even more popularity as a material that can be customized to create just about any look. The range of options gives homeowners and business owners the opportunity to choose a design or pattern that fits their desired style.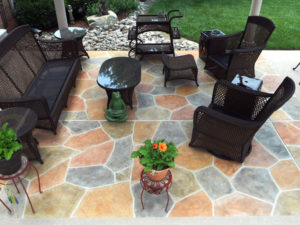 Photo Credit: Sundek of PA
Extending the Indoors
More and more people are seeing the benefits of expanding their indoor spaces into the outdoors. This can be done with the right furniture—many companies offer beautiful, comfortable, and functional outdoor furniture made of materials that can withstand weather. With all that's available, your patio can become an outdoor living room, dining area, or even kitchen.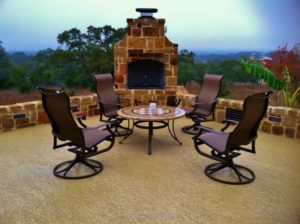 Photo Credit: Sundek of PA
Multi-use Fire Features
With all the fire pits available on the market, it's easy to find one that's portable and the right size for just about any patio. And with all the different designs available, a fire pit can be more than just a source of heat and illumination—it can also serve as a focal point. Some even come with tabletops that can be placed on top when the fire is not in use, making it a multi-functional element for the patio.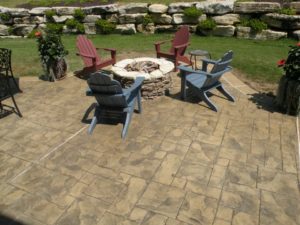 Photo Credit: Sundek of PA
Outdoor Lighting
In addition to being a safety feature, the right outdoor lighting also helps create a nice ambiance and extend the time you can spend outside. Keep in mind that outdoor lighting isn't limited to a string of lights around your pergola or patio cover, either. You can use individual lights to uplight plants that you want to draw attention to, place staked lights along a pathway to light the way, or hang lanterns in a nearby tree.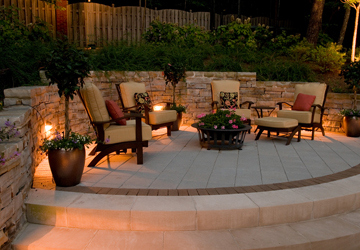 Photo credit: Greenville LED Patio Lighting
Vertical "Food" Gardens
If you want to add plants to your patio, a vertical garden is a great solution, providing lots of room to grow but without taking up too much space. Herbs, vegetables, and fruits are highly recommended because they add color to a patio space and come in handy when you're cooking.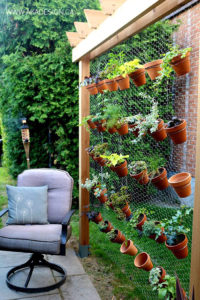 Photo credit: AKADesign.CA
Contact us with your patio refinishing needs
We're happy to provide a free estimate! Here's how to contact us:
Fill out this form on this page
Call us at 888-491-2200
Free Analysis & Estimate