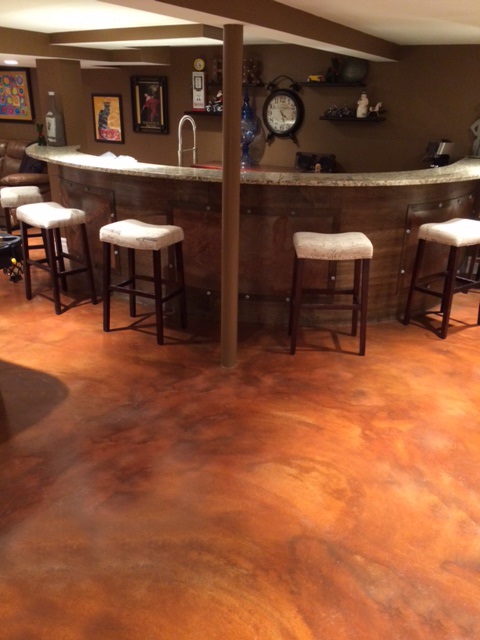 We all know that plain concrete can get boring and ugly. Plus, stains and blemishes on it can easily be noticed but very difficult to remove because of concrete's porous nature. Fortunately, there is a way to cover this all up and make your floors a lot more decorative, in a unique way. Concrete staining is a highly recommended method of improving concrete floors that are old but still in good working condition. A concrete stain can also be great addition to a newly resurfaced area, like stamped or stenciled floors, to make it a lot more colorful and interesting.
Are Acid-Bases Concrete Stain Colors Right For You?
As an exclusive Sundek installer in the Philadelphia area, we make sure that we use effective products for staining concrete. One such product is an acid-based stain that can be used on both indoor and outdoor floors. What is the difference of this solution to one that is water-based? Is it as effective as any other kind of stain out there? If questions like these are in your mind, let us help you get a better glimpse of the benefits of an acid stain concrete solution:
Its is a chemical-based product that is used to color concrete. This is often applied with a spray but only an expert can do this because it requires a protective gear because it may give off fumes or residue that could be harmful to people. It could also affect nearby plants so the surrounding area must be carefully covered and protected.
The application of the stain requires more steps. The concrete needs to be neutralized and rinsed to remove any chemical residues. While removing, a vacuum would be beneficial to immediately suck the residue into a bag or container for proper disposal.
Unlike a water-based stain, this produces a more unique effect on your floor. Instead of an opaque hue of solid colors, the chemicals in the stain will cause a reaction as it comes in contact with the concrete's natural minerals. This would cause marbling and almost stone-like patterns on the floor that can not be replicated anywhere else. Also, it produces different hues of color even if you only used a single shade initially.
It penetrate the concrete a lot deeper than water-based stains do, thus, making the effect surface-deep, durable, and long-lasting.
Interested in Stained Concrete? Call Sundek of PA Now!
We highly encourage you to ask for more information and a free quote to make you more capable of coming to a final decision as to whether you want stained concrete floors in your home or business area. Our team at Sundek of PA made sure that we are trained and experienced enough to know how to stain concrete with utmost precision and efficiency. We want to be your best choice all the time!