5 Reasons Why Decorative Concrete is a Trend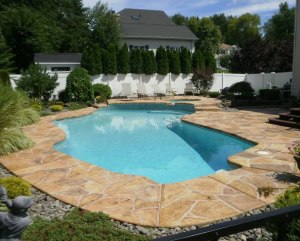 When remodeling a home or business, it's common for property owners to research what materials are trending. However, it is important to choose something that will remain ideal for many years to come. Decorative concrete is one such "trend." Architects, building managers, and even designers have acknowledged that while concrete is commonly used as flooring material, it stays trendy because there's always something new to offer. Here are some of the main reasons decorative concrete is endures as a consistent trend in the remodeling world.
Free Analysis & Estimate
Stylish
While concrete is still used for utilitarian purposes, it's also a highly stylish material for homes and businesses alike. In fact, in some cases it competes with more high-end materials like granite, marble, natural stone, and even wood. With concrete stamping and textures, it can be designed to integrate with almost any type of theme, like Old-world European, contemporary, vintage classic, and more. There are so many options to make concrete look luxurious and expensive without compromising functionality.
Versatile
Concrete can be molded, colored, and designed in so many ways. Dyes and stains are still popular methods of coloring concrete but there are other non-conventional methods like sandblasting, swirling, and directional brooming. Metallic epoxies also offer an endless array of color combinations.
Affordable
A designer once told us that he loves that he can purchase an 80-pound bag of concrete and use it to create planters, tables, and more—even without power tools. The affordability of concrete is why many homeowners and commercial property owners turn to decorative concrete for both outdoor and indoor flooring applications.
Durable
Concrete is as durable as time itself and has always been a preferred material both for sub-base and topping. With proper installation and the right sealer, it can last for decades.
Low Maintenance
While most decorative flooring materials require tedious cleaning and maintenance processes, decorative concrete does not. With proper installation and sealing, all it needs is sweeping and occasional mopping or hosing off. A high-quality sealer makes the concrete surface non-porous, so it doesn't absorb things as quickly. This quality leads to less staining and also makes the surface easier to clean.
Contact us with your decorative concrete needs
We're happy to provide a free estimate! Here's how to contact us:
Fill out this form on this page
Call us at 888-491-2200
Free Analysis & Estimate