Sundek Classic Texture: The Ideal Coating for Pool Deck Refinishing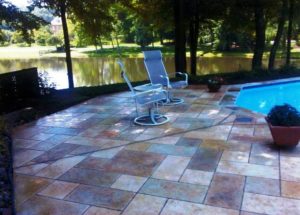 If you're looking for a professional contractor to refinish your pool deck, SUNDEK of PA can help.
Sometimes people assume that only older pools are resurfaced, but resurfacing can also be done on brand-new pool decks, too. If it's concrete, we can resurface it.
Free Analysis & Estimate
What product is best for pool deck resurfacing?
At SUNDEK of PA, we specialize in using SUNDEK's Classic Texture. This coating serves a number of purposes:
Because it has texture to it, Classic Texture provides a slip-resistant surface.
A surface textured with Classic Texture is cooler than plain gray concrete. This is a major benefit because it stays comfortable for bare feet, even on really hot summer days.
The variety of colors and designs available mean that homeowners and commercial property owners can create a custom look that fits their backyard style perfectly.
Other ways we can help with pool decks
In addition to applying a Classic Texture coating, there are other ways we can help with your pool deck surface:
For decks that need a new sealer, we can remove the old sealer and then apply a new one. Learn more about the importance of using a selaer.
If the client has colors that are fading, we can make your surface more vibrant (or create whatever look you're going for with our coloring systems).
For surfaces that have minor damage such as flaking, chipping, or cracking, we can address the problem and resurface the area with a beautiful overlay.
Contact us with your pool deck refinishing needs
We're happy to provide a free estimate! Here's how to contact us:
Fill out this form on this page
Call us at 888-491-2200
Free Analysis & Estimate